Loreto
"Pueblos Magicos"
Baja California Sur, Mexico
Loreto is located on the East coast of the Baja California Peninsula, in the state of Baja California Sur, Mexico. It is North of La Paz, which is the capital of Baja California Sur and Loreto's elevation sits about 10 feet above sea level.
Getting to Loreto is easy, with direct flights from California and Canada. The airport in Loreto is International and located about 10 minutes out of town. If you choose to drive down from the U.S. California border it is about a 14 hour drive. The drive is wonderful with spectacular views of the ever changing landscape, well worth the road trip!
Loreto is considered a quaint fishing town with a tourist flare and a large expat community. Catering mostly to American and Canadian foreigners. The "foreign tourist season" is noted from October 1 through May 31st with the Summer months bringing in local Summer vacationers from around the peninsula and main land Mexico as well as Fisherman from all over the World!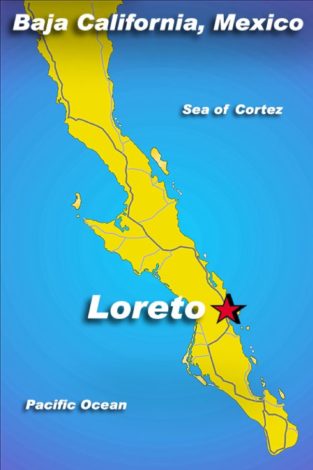 The Sea of Cortez has an incredible Summer fishing Season which boasts Dorado, Blue Marlin, Striped Marlin, Rooster fish, Snapper, Bonito, Sierra Mackerel, Amberjack, Cabrilla Sea Bass, and Mahi-Mahi. The winter fishing isn't so bad either, as Sailfish, Yellowfin Tuna and Wahoo are fun to catch! Loreto, and the Islands of are protected as a World Heritage Marine Site Park, which I am sure helps to support Great fishing in the area!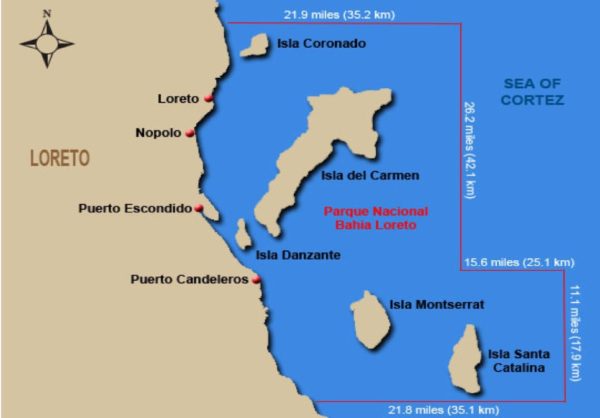 The red outlined area above shows the boundaries of the Marine Park
Loreto's History
Loreto was the first Spanish colonial settlement of the Viceroyalty of New Spain on the Baja California Peninsula. The town was founded in 1697 by Jesuit Missionaries who discovered a steady spring of fresh water on this site. Loreto served as the capital of the province of Las Californias from its founding until the capital was moved to Monterey on February 2, 1777. In 1768 the province had been split into Alta California (todays U.S. state of California) and Baja California.
Climate
The climate changes with the seasons. October through April are pleasantly warm, with not much rain fall expected during these months. The North winds tend to pick up around November and can visit often through February.
Come the month of May it starts to really warm up and the humidity starts to kick in by the middle of the month. The winds during this time of the year, if any at all, can come out of the North or the South, either way they are mostly pleasant.
June, July, August and September are considered the rainy season and the humidity can be in full force, of course some days are nicer than others! A monsoon shower during these months is a welcome relief as are any breezy days. The summer months can also be a season of Tropical storms and even a hurricane if the water temperature and air temperature are in sync.
On average the weather in Loreto is very pleasant during our peak season of October through April!
Population
Loreto's population in town at last census was 18,535. The population is mostly made up of local Loretano's, Canadian's and United States Expats. The cruise ships coming to port approximately 8-10 times per year does create a busier city with all the additional tourist, but this only lasts for a day or two while the ship is in port.
Visiting and Living
The culture of the local Loretano's is very traditional and welcoming as Loreto has not been over ran by tourist as some of the other popular spots in Mexico have been. It is still very much a gem in the rough of the Baja California Peninsula.
Loreto is known for being a very clean seaside town. Every morning you can see city workers sweeping the streets and walking the beaches removing any trash they may find. Overall the town is safe and comfortable to walk through day or night.
Loreto does not have a high crime rate at all, it is very low in comparison to other tourist destinations in Mexico and the United States. As with any location throughout the World crime can happen, it's a good practice to always pay attention to your surrounding no matter where you are, but for now Loreto is still a wonderful, magical and safe place to visit and live!
The cost of living in Loreto is still very reasonable in comparison to the United States or Canada. Although how one likes to live equates to one's own level of cost of living but for the most part a couple can comfortable live on less than $1,700.00 US dollars per month.
The quality of life is wonderful in Loreto. There is only one signal light in town, as of 2018! Loreto is small, but not that small! Someone always knows someone if you are having a hard time finding what you need or want. Medical care, dental care and the local Hospital are all at reach, and if need be Doctors still make house calls here! You will often see ranchers on horseback getting to where they are going, and cows and goats free ranging, life is just a little calmer here in Loreto…maybe in part because strangers say Hola (hello) and Buenos dias o tardes o noches (Good Morning or Good afternoon or Good evening) as you pass by, it is a pueblo where people stop and chat during the day and where people smile even when the day is long or hard for them. Loreto is just a magical place of peace in my gracious opinion.
For more information about Loreto visit www.loreto.gob.mx.